Building

made simple

for every environment.
Most page-builder software is hard to extend, bloated and keeps you locked in to a CMS. We've solved all of these problems, and more. Everything you need to build incredible websites.
Extendable, flexible, and easy to use. Nitrogen is built to help you build the best websites possible.
We've designed Nitrogen to be as easy to use as possible. You'll be up and running in no time.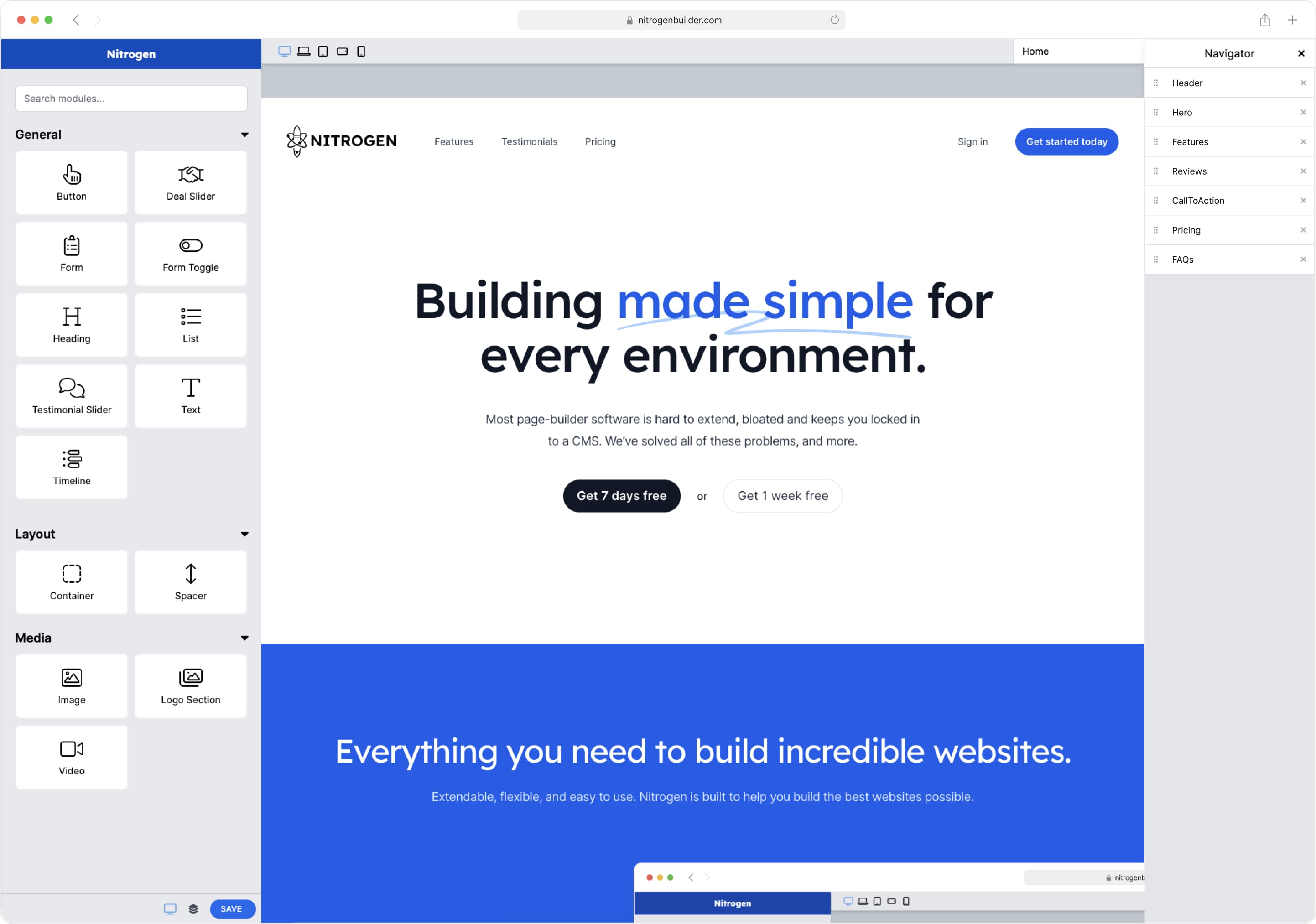 Everyone is changing their life with Nitrogen.
Hundreds of people have doubled their love for life in the last 30 days. Get started today
It's time to take control of your content. Get started so you can build anywhere, anytime, with limitless possibilities.
Get 7 days free
Pricing
Simple pricing, for everyone.
One plan, unlimited sites, unlimited power, and no hidden fees.
Developer
Take care of your clients the way you want to, with our developer plan.
$150/ month$1500/ year
7 day free trial

Advanced component pack

Deploy to ∞ Domains

Developer Support

Self-Hosted
Get started
Frequently asked questions Frequently asked questions
If you can't find what you're looking for, join our Discord server and make a post in the #support channel. We will get back to you as soon as possible.
Is Nitrogen only for developers?

Not at all! We provide a set of components that can do the trick for anyone. This makes Nitrogen easy for Content editors and Developers to use.

How do sites built with Nitrogen perform so well?

Under the hood we use Astro, a blazingly fast static site generator.

Can we host Nitrogen on our servers?

Yes! With our developer license you can host Nitrogen on your own servers.

How do I apply for a job at Nitrogen?

We only hire our customers, so subscribe for a minimum of 6 months and then let's talk.